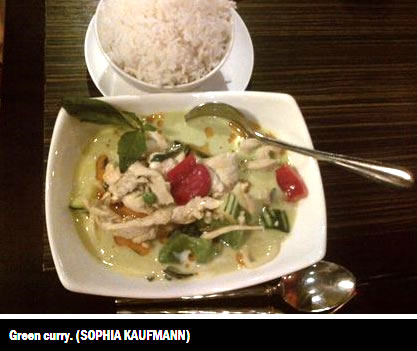 With Calgary's December cold in its full frostiness outside, I was hoping in earnest not to be turned away.
Our impromptu arrival at Khao San had, as usual, been made without a reservation but our host ultimately took a chance he'd have enough Sunday night tables with the extra three of us.
The Thai eatery has been doing its thing for the past one-and-a-half years in the space once occupied by Jaro Blue and doesn't look dramatically different, save for the absence of equine imagery.
Brown drapes cloak the walls, fronted by Asian relief panels.
Its menu is standard Thai fare, and prices sit at the high end of the genre.
Our first venture into it was the pla meuk yang, or marinated squid ($9).
Sliced into ringlets along with some tentacle action, this was seafood marinated in soya sauce and lemon grass, or so we were told.
It was a subtle seasoning, with the squid flavoured more from its grilling.
This was squid with a delightfully tender texture and accompanied by a wickedly spicy chili dip.
We liked it a lot.
Our hosts' satay beef delivered four skewers of deliciously marinated meat in a delectable, lively peanut-coconut sauce ($8).
This was garnished with a tiny bowl of red onions and bell peppers steeped in sweet vinegar.
Mizue's go-to Thai dish, the green curry, was a must and Khao San's didn't disappoint.
Theirs seemed extra milky and every bit as fragrant and herbally enhanced as you'd want, with plenty of soft chicken, cucumbers and green peppers ($16).
This we poured over spoonfuls of sweet jasmine rice ($2.25 for a small bowl).
We also summoned a plate of fried rice — ours with pork over beef, chicken, prawns or seafood ($13).
The pork was few and far between but this veggie-studded rice packed plenty of savoury flavour.
For a stir fry, the seafood with veggies version — including soft bamboo shoots — was well-infused with fresh basil and a soya-based sauce that imparted both spiciness and sweetness ($18).
And we loved our hosts' pad Thai which came riddled with prawns and just the right amount of sweet stickiness among the noodles and peanutty crunch ($14).
Service throughout was fast, efficient and friendly, while our much-needed water was kept consistently topped up.
Khao San's memorable fare had, for a time, banished the cold and kicked off our holiday season delectably.
Khao San Thai Kitchen
1314 17 Ave. S.W.
587-353-2668
3.5 stars
Hours:
Closed Mon.
11:30 a.m.- 2 p.m. & 5-9:30 p.m. (Tues.-Thurs.)
11:30 a.m.-2 p.m. & 5-10:30 p.m. (Fri.)
5 p.m.-10:30 p.m. (Sat.)
12 p.m.-9 p.m. (Sun.)
Dress: Casual
Main entree: Around $18
Liquor: Licensed